looks good but go more in depth about the new social science area if you can.  also maybe include more about his ideas on socialism - alexis
Introduction
Edit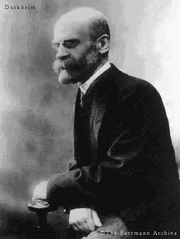 Emile Durkheim was one of the founding fathers of sociology. He is also considered to be one of the most influential men in the evolution of sociology. During his college studies he had become bored with the study of philosophy and thus stemmed into the idea of a new social science. Some of his major accomplishments include The Rules of Sociological Method which helped define the study. He has also been very influential to the eyes of those studying anthropology, those such as A. R. Radcliffe-Brown and Levi Strauss...  
Early Life and Education
Edit
        Emile Durkheim was born on April 15, 1858 in Épinal, Lorraine, France. He was born to a merchant's daughter and a rabbi. Durkheim also had three siblings; one brother, Felix, and two sisters, Rosline and Celine (Lukes, 1985, p. 39) His family had a tradition in following with religion, Durkheim came from a long line of rabbis. It was assumed that Durkheim would grow up, follow in his father's footsteps, and become a rabbi. However, before Durkheim turned 20 years old, his father died, and plans for rabbinical school were never realized.           
       Durkheim was a very intelligent person, which helped him move quickly through his schooling, earning him many prizes and honors. His high intellect and academic excellence led to receiving baccalaureates in Letter in 1874 and Sciences in 1875 at the College d'Epinal. He also had high distinction in the Concours General which gave him easier access into Lycee Louis-le-Grand. However his highest academic ambition was acceptance into École Normale Supérieure in Paris. Although Durkheim was very smart he had a difficult time trying to get into the École Normale Supérieure. He finally achieved his goal at the age of 21 in 1879. Here he studied philosophy because there was no curriculum for social sciences in France. While attending this school he had met two people that influenced him into the path that he further led into. Emile Boutroux was a philosopher that Durkheim had sought as an allie. Durkheim had felt out of place because his way of thinking was making it difficult for him to study. Durkheim's scientific way of thinking were better placed when he began to interact with Boutroux. This interaction is where he incorporated all of his philosophical methods into his new study of sociological method. (Answers.com, 2009)   He was bored by his studies, and graduated second to last in his class in 1882 (Emile Durkheim Biography, 2002). After graduation Durkheim studied sociology in Germany. 
Creating a New Social Science
Edit
     Following his German Studies, Durkheim returned to France and worked to reform the school systems to include social sciences in the curriculum. He passed the tests needed for teaching at the state's secondary schools and began to teach pedagogy and social science, a first in the history of France's schools. He taught at Sens, Saint-Quentin, and Troyes between the years of 1882-1885. Then took a leave of absence from 1886 to 1887 and studied under Wilhelm Wundt, a psychologist in Germany. Durkheim followed Wundt's experimental psychology. Wundt's work was of "unmediated study of consciousness, aided by the experimental protocols of the natural sciences" (Kim, 2006).  
    Following his studies he returned to France. By 1893 Emile had finished his doctoral dissertation, his first publication called The Division of Labor in Society. Then two years later he founded the first department of Sociology in France at the University of Bordeaux, where he was the named lecturer in education and sociology. He also was given the chair as the first professor of sociology in France.            
     Durkheim began to collect many articles from people studying sociology and realized that reviewing them was too much for one person. In 1898 he founded the journal L'Année Sociologique. The publication printed articles collected for others to review the work of aspiring sociologists.The work load that Durkheim brought upon himself for this journal was hard on him (Answers, 2009). Durkheim gathered a diverse group of young scholars that "shared his vision of an integrated science of society" (Barnard, 2000, p. 64).         
      By 1902 Emile was appointed chair at the Sorbonne, making his lectures the only ones that were mandatory for all attending students. In 1912, he was permanently assigned Chair of Education and Sociology and published his last major works The Elementary Forms of the Religious Life.  
Religion
Edit
      Durkheim did not give up on religion. He wanted to study religion from an agnostic standpoint rather than being indoctrinated. Maintaining close ties to his family and the Jewish community, he studied Catholicism for awhile. His interest informed his later study that led to his third major work, Suicide. He developed a "classical sociological explanation for suicide" (Elwell, 2003). There are four major types of suicide, with one as being egotistic. This is where he used a variety of statistics with different factors relating to Catholics and Protestants. His findings showed Protestants to have a higher suicide rate than Catholics for which "religious participating was expected" and those who were married (Elwell, 2003). 
      Durkheim decided to study religions based on the idea that they all stem from social factors rather than the divine. This is where another major work of his came from called The Elementary Forms of Religious Life (1912). Durkheim focused on his idea that religion is about the sacred being set apart and the profane as being everyday life. He believed that religion came from a collective social action. Religion also came about as a mistake which is staying true to its social character (Durkheim, 1995, p.38). Religion also has a social reality not literal because it does something, has a function. Durkheim reaffirmed that religion has a social purpose, an emotional ritual by means of playing on emotions. Society has everything necessary to arouse the sensation of the divine in people's minds. Because society is so powerful, the divine is simply the society themselves (Durkheim, 1995, p.42).  
Personal Tragedy
Edit
       In 1887, Durkheim married Louise Dreyfus. They had two children together; a son named Andre and a daughter named Marie. In 1916, his son died during World War One. He was among many students that Durkheim had taught that fought in the war and died. The overall loss of his son was too great of a pain for him to handle. He fell apart mentally and never fully recovered from this loss. The following year Durkheim suffered a stroke from overworking and emotional strain. He recovered enough to work for a few months and eventually died that year.      
Major Works
Edit
1883 - Division of Labor in Society
1895 - The Rules of Sociological Method
1897 - Suicide: A study in Sociology
1912 - The Elementary Forms of the Religious Life
1914 - The Dualism of Human Nature
1914 - Pragmatism and Sociology
Works cited
Edit
Answers.com, 2009, Durkheim, Emile. Electronic Document: http://www.answers.com/topic/emile-durkheim
Barnard. Alan (2000), History and Theory in Anthropology, Cambridge: Cambridge University Press
Emile Durkheim Biography (2002)  Electronic Document: http://www.emile-durkheim.com/emile_durkheim_bio_001.htm
Encyclopedia Britannica, 2009, Emile Durkheim. Electronic Document: http://www.britannica.com/EBchecked/topic/174299/Emile-Durkheim/1962/Childhood-and-education
Elwell, Frank, 2003, Major Works by Emile Durkheim. Electronic Document: http://www.faculty.rsu.edu/~felwell/Theorists/Durkheim/DurkheimBooks.htm#Major

Durkheim, Emile (1995) The Elementary Forms of Religious Life In Lambek, Michael (Ed), A Reader in Anthropology of Religion (pp. 35-47) Malden, Ma: Blackwell Publishing
Kim, Alan, 2006, Wilhelm Maximilian Wundt, Stanford Encyclopedia of Philosophy Electronic Document: http://plato.stanford.edu/entries/wilhelm-wundt/

Lewis, Jonathon F. 2007, Durkheim, Emile, from Encyclopedia of Death and Dying. Electronic Document: http://www.deathreference.com/Da-Em/Durkheim-mile.html
Lukes, Steven, (1985) Emile Durkhiem, his life and work: a historical and critical study, Stanford University Press
Lycos Retriever, 2009, Emile Durkheim.  Electronic Document: http://www.lycos.com/info/emile-durkheim.html
Sociology Professor, 2004 – 2009, Emile Durkheim. Electronic Document: http://www.sociologyprofessor.com/socialtheorists/emiledurkheim.php