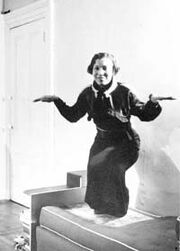 Early Life
Edit
Zora Neale Hurston was born January 7, 1891 in Alabama. A fact that she herself denied, Hurston claimed to be born in several different years and born in Eatonville Florida, the first black run city in the US. This was to help her appear younger and also of an important city. She was the fifth of eight children. Her father was John Hurston, a Baptist preacher, tenant farmer, and carpenter. In her book Dust Tracks on a Road, Hurston states that her father already had a daughter when she came along and that he was not too keen on having another one.(Hurston 1942:19) Her mother Lucy Potts was a school teacher, and preferred Zora. This was important because her mother encouraged her to make up stories and write.
Hurston was smart and well liked by adults. Her father was a successful preacher and became the mayor. When Hurston was nine years old, her mother passed away. After her mother's death, Hurston's father quickly remarried, and Hurston was not fond of her new stepmother. Hurston was then sent around from relative to relative and until she found herself a job as a maid. Much about the years she spent as a maid and traveling from place to place is missing. She says little to none about it in her autobiography. It is unclear at what age she started working as a maid. She only refers to her emplyer as " Miss M." and gives the idea that she was under sixteen. (Yates 1991:41) This is significant because much of her traditional education years were spent as a maid. This however gave her a different education, one that could only be learned through life. Possibly this made her comfortable and therefore capable of travel for her ethnographies and studies.
Education
Edit
She was 26 when she finished high school in Baltimore, somehow she passed for 16. Hurston wanted to be educated. She could have continued as a maid or in other avenues of work that was common for black women at that time. She then went on for her associates degree at Howard University. During her time in college she published a variety of articles. Her first is "John Redding Goes to Sea." She was 34 then, but appeared very young. Most who knew her thought her to be an inexperienced coed, although she was already published. She worked various jobs while attending school. One of the jobs she had was a black owned barber shop that was patronized by whites. She never thought anything of it until one day a black man came in and requested a haircut. He sat from chair to chair but was refused by all. This experience changed her outlook on a lot of things. This influenced her scholarship by wanting to know more about the differences between blacks and whites. (Yates: 48)
She then completed her B.A. at Columbia. She met Franz Boas there and was then introduced to the field of anthropology.(Yates: 56) Boas taught her about cultural preservation and that she needed to record her Black culture because it soon may be lost. One of Boas's major concerns was culture conservation. It is interesting that Boas is a Jew and felt marginalized in his native Germany and has then fled to the United States to avoid persections. His words on race and intelligence really had an impact on Hurston. She knew she was smart and was told that she was ignorant because she was black. Hurston liked to stand on the street corner sometimes and measure head sizes of passerbys, both black and white, to prove the point. She already felt similar to Boas's issues on race and his cause for culture preservation so she took his words to heart and struck out to do ethnography. She then completed two years of graduate study at Columbia in Anthropology. (Yates: 57)She started her field work in Harlem. She was studying folklore and black culture stories. Also she decided to do ethnography on the people of Eatonville. She failed miserably at her first attempt. She was not the same person when she came back to Eatonville as she was when she left. She was educated and spoke differently than those who lived there. She was not as trusted as she was before. People were suspicious of her wanting to know "silly folklore stories.'( Yates :62) However, she recognized the problem and on her second attempt she was much more successful. She changed her speech to be more like it was when she was younger. She remembered and practiced the gender segregation that she had known in the past. Because she was acting like the people of Eatonville expected her to she got more information. At first she tried asking straight out about folklore and stories. This made people distrusting of her, but the second time around she just waited until they were ready to tell the stories.
Harlem Renaissance
Edit
Because of her work in Harlem she was part of the Harlem Renaissance. This was a time of black thought and artist and writings. Many were challenging what they knew of the social structure between blacks and whites. She was friends with influential people such as Langston Hughes and Wallace Thurman. Hurston started writing about her time living in Eatonville. She did fictional as well ethnographic books. Most involved in the Harlem Renaissance, including Hughes, were looking to fit in better with whites. They wanted to be accepted and respected in the same way whites were. This is not what Hurston wanted. She had lived in an autonomous black community. She knew that blacks could be self sufficient. She also felt that the black culture would be lost if integration happened. She included the black speech as part of this culture that would be lost. Most of her novels were in this style of writing. They emphasized the autonomy and culture of blacks. For example:
"Dat's a big ole resurrection lie, Ned. Uh slew-foot, drag-leg lie at dat, and Ah dare yuh tuh hit me too. You know Ahm uh fightin' dawg and mah hide is worth money. Hit me if you dare! Ah'll wash yo' tub uh 'gator guts and dat quick." - From Jonah and the Gourd Vine
Hurston's uses of vernacular common to Black Americans of her time is so remarkable that books have been written to analyze and define it. Hurston's writing in real language helps " code" her thoughts on race and gender. Karla F. C. Halloway analyzes Hurston's work and words in The Character of the Word. She compares Hurston's work to a drum used in African myths as the word of God- in turn it becomes an instrument of creative power. Language is what points out and defines characters. Clarence Merton Babcock wrote A Word-List of Zora Neale Hurston. It is literally a dictionary of words one might commonly find in a Hurston work. Ie: "'Aunt Hagar's Chillun' Negroes, as opposed to white people. ' Negroes are children of Hagar; White folk, of Sarah.' ' You fool wid Aunt Hagar's chillun and theyll sho distriminate you.'"
Major Works
Edit
Ethnography
Edit
Hurston's novels were ethnographies. She used many stories that were black folklore and kept the linguistic quality of her subjects. She did field work in Harlem, most of the southern United States, Haiti, Jamaica, and Honduras. Although a novel is fiction and an ethnography is is not, most of Hurston's novels have an ethnographic quality about them in much the same way a historical fiction is both historical and fiction.
One Hurston's most well known ethnography is Hoodoo in America. She analyzes Hoodoo and healing practices in the United States as well as the Bahamas and Haiti. She looks at the West African influence of Hoodoo in black culture. It did so well that her publishers asked her to include more about Hoodoo in Mules and Men. Another one of Hurstons well known ethnographies is the help.
Hurston found herself between 1974 and 1929 when she writes Mules and Men. Zora Neale Hurston returned to Eatonville to record the oral histories, sermons and songs, dating back to the time of slavery, which she remembered from when she was an old younger women. It is a very important work that brings to light and preserves a culture that could have soon be forgotten. Boas wrote the book's introduction stating "contribution to our knowledge of the true inner life of the Negro." The book is divided in two sections the first is Hurston's travels as she collects and shares seventy African Folktales from Eatonville and Polk County. The second section is in Louisiana where she meets five hoodoo doctors and at the end of the book she includes as a listing for hoodoo formulae, ingredients and potions. The book ends with several black folk songs that Hurston compiled. Hurston uses fictionalizes herself as the narrator giving insights to her thoughts and feelings during the expedition.
Tell My Horse is Hurston's second and less successful ethnography. It was based on research that she gathered in trips to Jamaca and Haiti. This ethnography is divided into three sections. The first section is in Jamaica where she studied the Maroons (descendants of slaves who fought for their freedom). Part two is often historically inaccurate depiction of Haitian politics and history. Hurston often accepts what she has told as fact unquestioningly. Part three is the most interesting section and is about Voodoo in Haiti.
Hurston began her work on her first novel, Jonah's Gourd Vine, in July 1933 after the publisher Bertram Lippincott, who had read Hurston's story " The Gilded Six-Bits" in the August number of Story , asked if she was working on a novel. She mailed the manuscript to Lippincott on Oct 3. The novel was published in Philadelphia in May 1934. The main characters are John and Lucy. These are the names of Hurston's parents, and this is not all they have in common. John's character is a mulatto man who marries a black woman in Alabama and then they move to Eatonville. He is a preacher just like her dad. The work is a biographical fiction. The novel is telling the story of her parents, but it includes embellishments and allegories along the way. One of the unusual things that Hurston does in this book is keep the language and the people natural. She spells out the words and the sentences phonetically and fragmented as they would be naturally spoken. She also places other real people into her stories and places them as well into real context. She was the first black person to use this sort of approach. Her critics were opposed to speech they found in her novels. It made blacks to different from whites. Something that Hurston wanted to exploit, but others wanted to down play.
Their Eyes were watching God was written while Hurston was doing anthropological fieldwork in Haiti.She began writing the novel late in September 1936 and completed it on December 19, 1936. The novel was published September 18, 1937. It was not just her politics on race but also gender as well that were different. In her book Their Eyes Were Watching God, Hurston explores a different kind of independent woman. The main character Janie is married to 3 different men with 3 different outcomes. The first is an older man who would rather have a servant than a wife. The second is a man who she thinks she loves, but she turns more into a possession than a wife. By this time Janie is much older than she once was, but still attractive. She finds true love in her third marriage. But this does not end happily as boy # 3 gets rabies and she shoots him. This story also takes place in Eatonville and seems to be autobiographical as well. This is not autobiographical in the sense that every event in the story happens to Hurston but that she relates to many of the characters especially Janie. For instance Hurston did marry a much younger man, but he did not get rabies. Many stories have been influence by this novel. A modern day example might be How Stella Got Her Groove Back. Pearlie Mae Fisher Peters analyzes the feminist attitudes in Their Eyes Were Watching God. She states (referring to Janie) " She is more in alignment with the dreams and aspirations of the contemporary Black American woman than any of Hurston's other assertive women she is an independent minded woman who eventually finds authentic love with a man who gives her ever consolation in the world' including personal freedom and verbal contentment."
In December 1935 Hurston told a friend that she was writing a book about Moses, but she did not complete Moses Man of the Mountain until early in 1939 while she was employed by the Florida Federal Writer's Project. The novel was published in 1939. . This book is particularly interesting as it is an satire. It mixes the Biblical Moses with the folkloric Moses of black stories. This is a tale of Exodus. She seems to be focusing on the issues of the day. The novel is written pre-civil rights movement. She is calling the blacks to an Exodus of their own. This is inseparable as the story unfolds from the Hebrews flight to the promise land and a movement for blacks to stand up on their own two feet, and make their own lives to go to the promise land. Hurston mainly satirizes the Hebrew people's reluctance to follow Moses. This conveys her views of the common people and their petty jealousies and suspiscion of the success of others. The work is fascinating because of its meanings and even today post civil rights in has meaning. One of the modern meanings is that now the Civil Rights era has past, for blacks to become prominent members of the community, and to put aside pettiness.
After the editors at the Lippincott firm rejected several proposals Hurston had submitted to them Hurston signed a contract for a novel with Charles Scribner and Sons. With a $500 advance from Scibner's she went to Honduras in May and began to work on her new novel. She sent in a draft to her editor and recieved an additonal $500 which enabled her to stay in Honduras while she continued the novel. Seraph on the Suwanee, marked a major departure for Hurston out of black folklife into the mainstream white culture. It was a conscious decision to try and widen her reading audience and to make a statement as a writer, black on white. Hurston's portrayal of sex is rather explicit for her day and time. In Seraph on the Suwannee Jim Meserve's rape of Arvay(the heroine) and subsequent encounters in the book make this one of her most explicit. Jim's sexual control over Arvay borders on the sado-masochistic. This is different from the sex portrayed in Their Eyes Were Watching God where Janie and Tea Cake have makeup sex. In this novel Hurston not only tackles race but also sexual politics, gender roles and marriage.
Other Works
Edit
One of her more interesting works was her autobiography: Dust Tracks on a Road. It does not give her vital statistics such as her birth date. She also gives the wrong place of birth. This work gives an image that is not of her public or private life. She barely mentions her accomplishments. Also she refrains from mentioning any big events such as World War 1 or the Great Depression, other than in passing. It was written just prior to World War 2 and came out during the war. This book was greatly censored because of Hurston's political views.
Mule Bone is a three act play written in collaboration with Langston Hughes. It is their only collaboration and became the reason for the end of their friendship. In Hughes autobiography, The Big Sea, he admits that his contribution was mostly structural and that Hurston contributed the story and the dialogue. What is also interesting about this play is that Act III was published in 1964, but the entirety of the play wasn't published until 1991. Act I of the play is a fight that breaks out and Jim grabs a mule bone and hits Dave over the head. He is then arrested and set for trial. Act II recounts the trial. The trial turns on the question on whether a mule bone can be a weapon. It is a play on words. Bone = contention. Act II Is the shortest act of the play. The play starts with a fight over Daisy and ends with one as well. Instead of someone getting hit with a mule bone. Daisy is rejected and Dave and Jim stay friends.
Color Struck is Hurston's first play. It is very short consiting of only four scenes, depicting the devastating effects of intraracial color prejudice on the lives of blacks. The prize won second place in the first Opportunity contest. Not easily humbled by second place Hurston came into the room of her competitors, flung her scarf dramatically over her shoulder and yelled " COLOR..R.R STRUCK..K.K"
Politics
Edit
Hurston was a conservative. She shunned the "New Deal". She wrote letters and spoke out against FDR. Hurston Spoke out against American imperialism. In 1945 she wrote and article for Negro Digest entitled Crazy for this Democracy. She states "Did F.D.R, aristocrat from Groton and Harvard, using the British language say 'arse-and-all" of Democracy when I thought he said plain arsenal? Maybe he did, and I have been mistaken all this time. From what is going on, I think that's what he must have said." Statements such as these were what caused great censorship of her works like Dust Tracks on a Road.
She campaigned for Hoover and Robert Taft who shared her fiscally conservative ideals. Hurston enthusiastically supported Taft. In 1951 She wrote a column for the Saturday Evening Post entitled A Negro Voter Sizes Up Taft. In the column she states " Anyone who endorsed the Constitution was a " capitalistic reactionary" and to admit patriotism was to be classed as a "dirty chauvinist." Anyone worth a amovar of tea was a "liberal," was known as an "inellectual," and went on talking about "directives" instead of plain orders. " This was in response to all the New Dealers attitudes. But the exposure of many prominent members of the Truman and Roosevelt adminstrations as communist spies left them with an opportunity to reclaim the contry. " American resistance army for a number of years, a sort of guerilla band doing what they could to restore consitutional government" Hurston thought that many blacks had ben tricked into believing anyone who was a liberal was a friend to the blacks. To this she stated that Taft was a true liberal " In the tradition of Thomas Jefferson."
Many of those who were members of the Harlem Renaissance supportedSoviet Unioni deals and communism such as W.E. Du Bois and Richard Wright. At the time artists were encouraged to use their popularity for political gain. She labled those who did so the "Niggarati." Hurston's politics of separation and emphasis on differences rubbed the black community wrong.
After World War II, Hurston began to write increasingly about pollitics. In 1950 shew wrote an article for American Legion entitled I saw the Negro Vote Peddled. This article complained that labor unions and leftist groups saw the black vote as one mass only able to vote in one direction. In 1951 She wrote another article for the American Legion entitled Why the Negro Won't Buy Communism. She attacked Communists who tried to make blacks as the new labor class.
Hurston's conservativism grew from three sources: an obsessive indivudalism that began with the self confidence of Eatonville and expanded to generate great self pride; a long suspicion of the Communist party and collectivist government; and finally Hurston was against racial boundaries, something that was not common place at the time.
Obscurity
Edit
One of the main reasons for Hurston's sudden obscurity is that she was accused of molestation. The sexual scenes in Seraph on the Suwanee were used against her. Her book had just come out a week prior to the incident. The next month the Baltimore Afro- American published an inaccurate and sensationalized version of the case. The charges were dropped and nothing more came of it. But the damage was done. Hurston was so devastated that she did not feel up to promoting her book even though sales were initially good. She never stopped writing though. There are many works that were never published.
Hurston worked as a librarian and various other jobs until her death in Florida on January 28, 1960. She was buried in a segregated graveyard with no marker. She died very poor. It wasn't until Alice Walker became interested in her work that the revitalization of Zora Neal Hurston started.
Revitalization
Edit
Hurston has influenced many black and white anthropologists and black movements. Many blacks are looking for that culture that has been lost trying to preserve what they can of it. Hurston's ethnographies and books point to accurate speech patterns, points of view, and storytelling that had been lost. She has influenced authors such as Alice Walker, Toni Morrison, and Maya Angelou. She has been awarded several writing awards posthumously and high school students now know her work. She has once again become a household name. It is interesting to note that Hurston herself was not a feminist nor was she for liberal, but she has been cannonized, as it were, for her feminsm and liberalness. Alice Walker wrote " I think we are better off if we think of Zora Neale Hurston as an artist, period-rather than as the artist/politician most black writers have been required to be. This frees us to appreciate the complexity and richness of her work in the same way we can appreciate Billie Holiday's glorious phrasing or Bessie Smiths's perfect and raunchy lyics, without the necessity of ridiculing the former's addiction to heroin or the later's exessive love of gin." It would be interesting to see these women face to face with each other and if they still got along.

Time line
Edit
September 1917 - June 1918 - Attends Morgan Academy in Baltimore, completing the high school requirements.
Summer 1918 - Works as a waitress in a nightclub and a manicurist in a black-owned barbershop that only serves whites.
1918 - 1919 - Attends Howard Prep School, Washington, D.C.
1919 - 1924 - Attends Howard University; receives an associate degree in 1920.
1921 - Publishes her first story, "John Redding Goes to Sea," in Stylus, the campus literary society's magazine.
Dec-24 - Publishes "Drenched in Light," a short story, in Opportunity.
1925 - Submits a story, "Spunk," and a play, Color Struck, to Opportunity's literary contest. Both win second-place award; publishes "Spunk" in the June number.
1925 - 1927 - Attends Barnard College, studying anthropology with Franz Boas.
1926 - Begins field work for Boas in Harlem.
Jan-26 - Publishes "John Redding Goes to Sea" in Opportunity.
Summer 1926 - Organizes Fire! With Langston Hughes and Wallace Thurman; they publish only one issue, in November 1926. The issue includes Hurston's "Sweat."
Aug-26 - Publishes "Muttsy" in Opportunity.
Sep-26 - Publishes "Possum or Pig" in the Forum.
September - November 1926 - Publishes "The Eatonville Anthology" in the Messenger.
1927 - Publishes The First One, a play, in Charles S. Johnson's Ebony and Topaz.
Feb-27 - Goes to Florida to collect folklore.
May 19,1927 - Marries Herbert Sheen.
Sep-27 - First visits Mrs. Rufus Osgood Mason, seeking patronage.
Oct-27 - Publishes an account of the black settlement at St. Augustine, Florida, in the Journal of Negro History; also in this issue: "Cudjo's Own Story of the Last African Slaver."
Dec-27 - Signs a contract with Mason, enabling her to return to the South to collect folklore.
1928 - Satirized as "Sweetie Mae Carr" in Wallace Thurman's novel about the Harlem Renaissance Infants of the Spring; receives a bachelor of arts degree from Barnard.
Jan-28 - Relations with Sheen break off.
May-28 - Publishes "How It Feels to be Colored Me" in The World Tomorrow.
1930 - 1932 - Organizes the field notes that become Mules and Men.
May - June 1930 - Works on the play Mule Bone with Langston Hughes.
1931 - Publishes "Hoodoo in America" in the Journal of American Folklore.
Feb-31 - Breaks with Langston Hughes over the authorship of Mule Bone.
July 7,1931 - Divorces Sheen.
Sep-31 - Writes for a theatrical revue called Fast and Furious.
Jan-32 - Writes and stages a theatrical revue called The Great Day, first performed on January 10 on Broadway at the John Golden Theatre; works with the creative literature department of Rollins College, Winter Park, Florida, to produce a concert program of Negro music.
1933 - Writes "The Fiery Chariot."
Jan-33 - Stages From Sun to Sun (a version of Great Day) at Rollins College.
Aug-33 - Publishes "The Gilded Six-Bits" in Story.
1934 - Publishes six essays in Nancy Cunard's anthology, Negro.
Jan-34 - Goes to Bethune-Cookman College to establish a school of dramatic arts "based on pure Negro expression."
May-34 - Publishes Jonah's Gourd Vine, originally titled Big Nigger; it is a Book-of-the-Month Club selection.
Sep-34 - Publishes "The Fire and the Cloud" in the Challenge.
Nov-34 - Singing Steel (a version of Great Day) performed in Chicago.
Jan-35 - Begins to study for a Ph.D in anthropology at Columbia University on a fellowship from the Rosenwald Foundation.
Aug-35 - Joins the WPA Federal Theater Project as a "dramatic coach."
Oct-35 - Mules and Men published.
Mar-36 - Awarded a Guggenheim Fellowship to study West Indian obeah practices.
April - September 1936 - In Jamaica.
September - March 1937 - In Haiti; writes Their Eyes Were Watching God in seven weeks.
May-37 - Returns to Haiti on a renewed Guggenheim.
Sep-37 - Returns to the United States; Their Eyes Were Watching God published, September 18.
February - March 1938 - Writes Tell My Horse; it is published the same year.
Apr-39 - Joins the Federal Writers Project in Florida to work on The Florida Negro.
1939 - Publishes "Now Take Noses" in Cordially Yours.
Jun-39 - Receives an honorary Doctor of Letters degree from Morgan State college.
Summer 1939 - Hired at a drama instructor by North Carolina College for Negroes at Durham; meets Paul Green, professor of drama, at the University of North Carolina.
Nov-39 - Moses, Man of the Mountain published.
Feb-40 - Files for divorce from Price, though the two are reconciled briefly.
Summer 1940 - Makes a folklore-collecting trip to South Carolina.
Spring - July 1941 - Writes Dust Tracks on a Road.
Jul-41 - Publishes "Cock Robin, Beale Street" in the Southern Literary Messenger.
October 1941-January 1942 - Works as a story consultant at Paramount Pictures.
Jul-42 - Publishes "Story in Harlem Slang" in the American Mercury.
5-Sep-42 - Publishes a profile of Lawrence Silas in the Saturday Evening Post.
Nov-42 - Dust Tracks on a Road published.
Feb-43 - Awarded the Anisfield-Wolf Book Award in Race Relations for Dust Tracks; on the cover of the Saturday Review.
Mar-43 - Receives Howard University's Distinguished Alumni Award.
May-43 - Publishes "The 'Pet Negro' Syndrome" in the American Mercury.
Nov-43 - Divorce from Price granted.
Jun-44 - Publishes "My Most Humiliating Jim Crow Experience" in the Negro Digest.
1945 - Writes Mrs. Doctor; it is rejected by Lippincott.
Mar-45 - Publishes "The Rise of the Begging Joints" in the American Mercury.
Dec-45 - Publishes "Crazy for This Democracy" in the Negro Digest.
1947 - Publishes a review of Robert Tallant's Voodoo in New Orleans in the Journal of American Folklore.
May-47 - Goes to British Honduras to research black communities in Central America; writes Seraph on the Suwanee; stays in Honduras until March 1948.
Oct-48 - Seraph on the Suwanee published.
Mar-50 - Publishes "Conscience of the Court" in the Saturday Evening Post, while working as a maid in Rivo Island, Florida.
Apr-50 - Publishes "What White Publishers Won't Print" in the Saturday Evening Post.
Nov-50 - Publishes "I Saw Negro Votes Peddled" in the American Legion magazine.
Winter 1950 - 1951 - Moves to Belle Glade, Florida.
Jun-51 - Publishes "Why the Negro Won't Buy Communism" in the American Legion magazine.
8-Dec-51 - Publishes "A Negro Voter Sizes up Taft" in the Saturday Evening Post.
1952 - Hired by the Pittsburgh Courier to cover the Ruby McCollum case.
May-56 - Receives an award for "education and human relations" at Bethune-Cookman College.
Jun-56 - Works as a librarian at Patrick Air Force Base in Florida.
1957 - 1959 - Writes a column on "Hoodoo and Black Magic" for the Fort Pierce Chronicle.
1958 - Works as a substitute teacher at Lincoln Park Academy, Fort Pierce.
Early 1959 - Suffers a stroke.
Oct-59 - Forced to enter the St. Lucie County Welfare Home.
28-Jan-60 - Dies in the St. Lucie County Welfare Home of "hypertensive heart disease"; buried in an unmarked grave in the Garden of Heavenly Rest, Fort Pierce.
Aug-73 - Alice Walker discovers and marks Hurston's grave.
Mar-75 - Walker publishes "In Search of Zora Neale Hurston," in Ms., launching a Hurston revival.
References
Edit
Bordelon, Pam 1997 New Tracks on Dust Tracks: Toward a Reassessment of the Life of Zora Neale Hurston. African American Review 31(1):5-21.
Boyd, Valerie 2003 Zora Neale Hurston: The Howard University Years. The Journal of Blacks in Higher Education(39):104-108.
Croft, Robert W. 2002 A Zora Neale Hurston Companion. First ed. Gainesville, Forida: University Press of Florida.
Estate of Zora Neale Hurston 2007 The official Website of Zora Neale Hurston. Electronic document, www.zoranealehurston.com, accessed April, 2009.
Hemingway, Robert E.1977 Zora Neale Hurston A Literary Biography. Illinois: University of Illinois Press.
Holloway, Karla F. C.1987 The Character of the Word: The Texts of Zora Neale Hurston. First ed. Westport, Connecticut: Greenwood Press.
Hurston, Zora Neale 1948 Seraph on the Suwanee. New York: Charles Scribner and Sons.
Hurston, Zora Neale 1942 Dust Tracks on a Road. Second ed. Illinois: University of Illinois Press.
Hurston, Zora Neale 1939 Moses Man of the Mountain. Illni Books Edition 1984 ed. Illionois: J.B. Lippincott.
Hurston, Zora Neale 1937 Their Eyes were Watching God. Philadelphia: J.B. Lippincott.
Hurston, Zora Neale 1934 Jonah's Gourd Vine. 1971 Edition ed. Philadelphia: J.B. Lippincott.
Hurston, Zora 1931 Hoodoo in America. The Journal of American Folklore 44(174):317-417.
Hurston, Zora 1930 Dance Songs and Tales from the Bahamas. The Journal of American Folklore 43(169):294-312.
Hurston, Zora Neale 1991 Folklore and Music. Frontiers: A Journal of Women Studies 12(1):183-198.
Kaplan, Carla 2002 Zora Neale Hurston A Life in Letters. 1st ed. New York: Doubleday.
Lyons, Mary E.1990 Sorrow's Kitchen the Life and Folklore of Zora Neale Hurston. 1st ed. New York: Macmillian Publishing Company.
Yates, Janelle 1991 Zora Neale Hurston A Story Teller's Life. Staton Island, NY: Ward Hill Press.
Community content is available under
CC-BY-SA
unless otherwise noted.